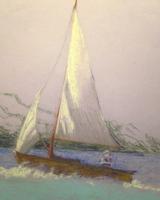 Feel the breeze and pastel paint it, too! Greg Maichack is back with a Pastel Workshop brought to you by the North Attleboro Cultural Council and the Friends of Richards Memorial Library.
You'll learn to make light luscious as you develop (or begin) your pastel painting skills with this new 2-hour workshop. Using references and Maichack's pastel version of Monet's Impressionist painting, "Sailboat at Le Petit-Gennevilliers," you'll create your own 12″ x 18″ pastel painting to take home. Come and experiment with professional-grade pastels, pastel pencils and paper. You can make it in your own style, realistic or Impressionistic. Beginner? Advanced? Welcome all adults and teens 18+!
Waiting list is now full.


This program is supported in part by a grant from the North Attleboro Cultural Council, a local agency which is supported by the Mass Cultural Council, a state agency.