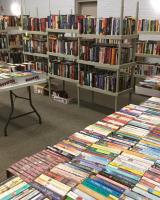 The Book Sale & Fundraiser will again be held at the Community Room at the Water Department, 49 Whiting Street.
Thursday, September 28, is Members Night from 6 to 8 pm. Refreshments will be available. You may join the Friends or renew your membership at the door. (Family memberships are $25 and Individual is $20.)
Friday, September 29, the sale is open from 2  to 8 pm. 
Saturday, September 30, the sale continues from 9 am to 2 pm. 
With only a few exceptions, all books, cds, dvds and audiobooks will be sold for $1 or less. There is a bake sale on Friday and Saturday. Raffle tickets and tote bags are available throughout the sale. Please join us to support the Library.