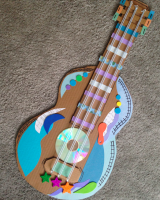 Get inspired by Pablo Picasso and create a guitar using paper collage materials!
This is a hands-on art workshop for elementary school children in 1st to 5th grade. The program will run from 11 am to 12:30 pm. Pre-registration required, space is limited.  Please call Cathy Firicano for sign up: 508-643-9469
This program is supported in part by a grant from the North Attleborough Cultural Council, a local agency which is supported by the Massachusetts Cultural Council, a state agency.
Contact:
Cathy Firicano: 508-643-9469