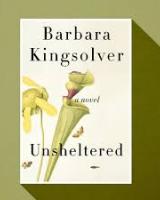 For this discussion we will be meeting at Brigg's Garden place -- 295 Kelley Blvd -- for lunch at 1:30.

In her insightful and politically charged new novel, Barbara Kingsolver finds deep resonances between the Victorian era's attitudes towards science, and our own. Unsheltered begins on the eve of the 2016 presidential election, when Willa, a freelance journalist whose family has fallen on hard times, discovers that the house they've moved into has a "nonexistent foundation." Hoping to enlist restoration help from a historical society, Willa traces the origins of the house to Thatcher Greenwood, a science teacher who lived there in the 1870s, and his neighbor, a real-life woman biologist named Mary Treat, whose research supported Charles Darwin's theory of the origin of species. Just as Darwin's theory challenged the Victorian belief in the Judeo-Christian creation myth, so too, in Willa's era, does global warming challenge prevailing myths about the future of civilization.
Books are available at the Reference Desk starting the month before the discussion.