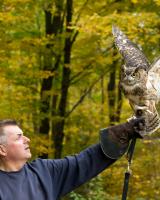 Learn how owls use their specialized powers of sight, hearing and flight to survive and thrive. A variety of live North American owls provides the focus of this presentation.
**Due to the nature of this program, children must be ages 6+ to attend and registration is required. Space is limited. We ask that you limit to one adult and 3 children ages 6+ per family so we can fit the most patrons.

Call 508-699-0122 starting 9/19 to register.
Contact:
Children's department, 508-699-0122