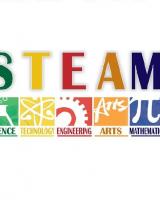 Join us Saturdays between 10 am and 4 pm and Tuesdays between 11 am and  6 pm for STEAM (Science, Technology, Engineering, Art, and Mathematics. ) activities. We will have a different activity out each day.
STEAM cart days are best for children ages 3+ with the direction of a parent. Activities are intended for independent or group play and are not libarian led.
Saturday, January 21: Exploring Fossils and Geodes, Snap Circuits
Tuesday, January 24: Snap Circuits, craft
Saturday, January 28: Magna tiles, shapes
Tuesday, January 31: Marble Run  - check out our new, plastic marble run!
Saturday, February 4: KEVA Planks
Tuesday, February 7: Shapes, Pattern Play
Saturday, February 11: Valentines. Snap Circuits
Tuesday, February 14: Quincy the drawing robots, animal posters!
Saturday, February 18: Pattern Play
Tuesday, February 24: STEAM-A-THON program from 11 am - 2 pm. Drop into the meeting room and try all of our STEAM activities.
Saturday, February 25: Crafts
Tuesday, February 28: Marble Run