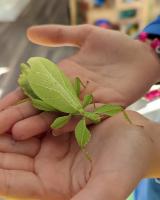 Amazing creatures have amazing adaptations!  And what better way for kids to discover these concepts than through hands-on experiences with a whole zoo of exotic invertebrates? Come to the library and meet some new friends!
This program is for children ages 4-12 and begins with a talk from the presenter, therefore seating is required.
There is a limit of 35 attendees. There is no registration for the program to avoid no-shows, so please consider the following:
Follow age guidelines. Children under age 10 will be asked to sit on the rug or on a lap to increase attendance numbers. 
Please arrive early. Street parking is available along North Washington and Grove Streets.  
Consider sending one adult with your children to help increase attendance, if possible.