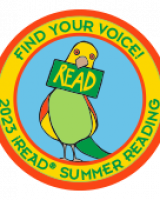 Register your children for our summer reading program starting June 14th. Children ages 3 - entering 9th grade will receive incentives for tracking their reading (and listening to reading) over the summer. Summer reading programs help prevent the "summer slide" of losing good reading habits. Learn more at:
https://www.rmlonline.org/summer-reading-find-your-voice
Registration ends July 31.