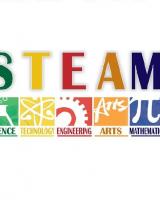 Drop by the children's room between 10 am and  6 pm on Tuesdays and 10 am and 4 pm Saturdays for STEAM cart fun. We will have a different activiity out each day.
STEAM stands for Science, Technology, Engineering, Art, and Mathematics.
STEAM cart days are for children ages 3+.
Children ages 3-5 must be accompanied by an adult at the table so items are used properly.
*Snap Circuits are for ages 5 and up only.
Activities are are not librarian led.
Tuesday, November 28: Legos and Shapes
Saturday, December 2: Magna Tiles and Snap Circuits (ages 5+)
Tuesday, December 5: Magna Tiles
Saturday, December 9: Legos
tuesday, December 12: Pattern Play and Shapes
Saturday, December 16: KEVA Planks
Tuesday, December 19: Legos
Saturday, December 23: Pattern Play and Shapes
Tuesday, December 26: **STEAM-A-Thon in meeting room, 11 am - 2pm
Saturday, December 30: Check back